Chelsea Hood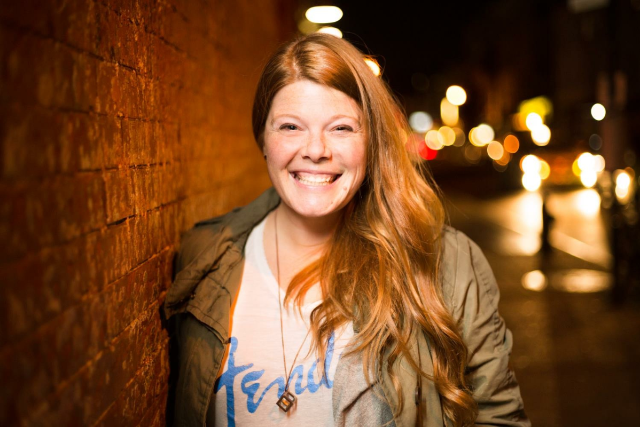 Chelsea Hood is a stand up comedian living in Chicago, IL by way of the comedy scenes in both Dallas, TX and Brooklyn, NY. You may have seen her on WGN, The CW Network's Eye Opener, or CW33's Nightcap. She was also featured on Stand Up Records' "Texas Mess" album recorded at SXSW. If you'd like to see her perform live, her shows are listed on this here website.
She stumbled into the performing arts at an extremely young age singing in children's choirs, and working in high school productions. She went on to get her BA in Acting from Illinois State University with a concentration in vocal performance. She's studied improv at both Second City in Chicago and Four Day Weekend in Fort Worth, Texas.
Chelsea's style of humor is observational, feminist, and pleasantly self-deprecating. Some of the comics she has been delighted to open for include; Marc Maron, Jay Mohr, Donnell Rawlings, Maria Bamford, Ralphie May, Richard Lewis, Pauly Shore, JB Smoove, Paul Rodriguez, Tom Green, Michael Winslow, Bobby Lee, and many more.
She was most frequently featured performer at Limestone Comedy Festival, one of eight chose as the Best of the Midwest at Gilda's LaughFest and a Comic to Watch at RIOT LA. Some of the clubs and venues she's had the privilege of performing at include The Comedy Store, Caroline's on Broadway, The House of Blues, The Improv, Zanie's, Thalia Hall Chicago, Upright Citizen's Brigade NY, the Lincoln Lodge (Chicago), a long list of prestigious bar basements across this country. Once on the bed of a tractor trailer, in a field in Texas, in the middle of an ATV park.
Events
Performance Date
Performance Name
Performance Info
Performance Notes
Performance tickets